EN Version: Winnerwell Ovenstove Camping Stove
DE Version: Winnerwell Ovenstove Camping Kocher Trekking Ofen
Winnerwell Ovenstove Camping Stove Patented Design
Precision-crafted in AISI304 stainless steel, Winnerwell® Wood Burning Stove is highly portable, easy to use, and built to last. From canvas tents and teepees to recreational shelters, this stove is a dependable heating and cooking solution.
With an integrated oven inside, Winnerwell Ovenstove provides you with the cooking versatility- frying, grilling, baking, warming, boiling and fire roasting. It also helps you save the extra space of storing and carrying a separate oven.
With its rectangular firebox, viewing windows, and nesting 4-leg design, the Winnerwell® Ovenstove Wood Burning Camping Stove is truly unique in the world of portable wood stoves. Made with quality AISI304 stainless steel, the Ovenstove is an excellent heating and cooking solution in compatible tents and a range of recreational shelters. The nesting 4-leg design makes it a good option for small spaces where a fireproof hearth area is used to reduce required clearances.
● Ideal for Heating & Cooking in Compatible Tents, Recreational Shelters, and for General Outdoor Use
● Cooking versatility for baking, grilling, steaming and boiling with the integrated oven and the stove top surface
● Precision-crafted in AISI304 Stainless Steel and built to last
● Integrated Oven absorbs the heat of the stove from 4 sides and the top for fast heating
● No affect on the usage of the stove when the oven is not in use
● Door features an air-control damper and a glass window for fire management and ambiance
● Glass window on the oven door to observe the state of the foods at any time
● Thermometer on the oven door to control the baking temperature and baking time
● Level side shelves lend cooking versatility and double as a carry handle
● Highly portable-Nesting legs and shelves fold flat to the stove body
● Wide 4-leg design helps keep the stove stable on uneven surfaces
● Compatible with Large Size and 3.5" Winnerwell Stove Accessories
● Fuel Type: Dry, seasoned wood only (not intended for coal burning)
● Includes 1 stove body, 6 sections of straight chimney pipe (3.5'' diameter, 16.9'' length), 1 airflow controller, 1 spark arrestor, 1 ash scraper and 1 grate
Stove Body Dimension: 580(L)mm×250(W)mm×300(H)mm / 22.8(L)in×9.8(W)in×11.8(H)in
Assembly Dimension: 620(L)mm×650(W)mm×2540(H)mm / 24.4(L)in×25.6(W)in×100(H)in
Oven Dimension: 230(W)mm×180(H)mm×190(D)mm / 9.1(W)in×7.1(H)in×7.5(D)in
Pipe Diameter: 89mm / 3.5in
Net Weight: 19.6kg / 43.1lbs
Materials: Made from AISI304 stainless steel, using 1/8'' thick material for the cooktop and 1/16'' thick material for the body, Winnerwell stoves are unique in the world of portable wood burning stoves. Good quality stainless steel lends several distinct advantages: It can be used in harsh outdoor environments; It can functionally withstand higher temperatures than mild steel, allowing thinner material to be used on the stove body which significantly reduces weight, ultimately making the stove more portable; And lastly, after the first burn, the stainless steel starts to take on a very nice patina color.
Accessory Recommendations: For added cooking utility, we recommend the Winnerwell L-sized Water Tank and the Winnerwell Pipe Oven 3.5''. The water tank is excellent for melting snow and ice for drinking water, and when the stove is burning efficiently the tank will boil water in minutes thanks to its location at the back of the cooktop and the base of the flue pipe where heat is concentrated. The 3.5'' Pipe Oven is generously sized with two shelves and is ideal for biscuits, cookies, baked potatoes, and more. Using a large skillet or dutch oven on the cooktop in conjunction with the Pipe Oven provides a very functional camp kitchen set up.
------------------------------------------------------------------------------------------------------------------------------------------------------------------------------------
Winnerwell Ovenstove Camping Kocher Trekking Ofen

Der aus rostfreiem Stahl AISI304 gefertigte Winnerwell®-Holzkocher ist leicht zu transportieren, einfach zu bedienen und langlebig. Von Zelten und Tipis bis hin zu Freizeitunterkünften ist dieser Kocher eine zuverlässige Heiz- und Kochlösung.
Der Winnerwell Ofen verfügt über einen integrierten Backofen und ist vielseitig einsetzbar - zum Braten, Grillen, Backen, Aufwärmen, Kochen und Rösten. Außerdem sparen Sie den zusätzlichen Platz für die Lagerung und den Transport eines separaten Ofens.
Mit seinem rechteckigen Feuerraum, den Sichtfenstern und dem verschachtelten 4-Bein-Design ist der Winnerwell® Ovenstove Wood Burning Camping Stove wirklich einzigartig in der Welt der tragbaren Holzkocher. Der aus hochwertigem AISI304-Edelstahl gefertigte Ovenstove eignet sich hervorragend zum Heizen und Kochen in kompatiblen Zelten und einer Reihe von Freizeitunterkünften. Die 4-Bein-Konstruktion macht ihn zu einer guten Option für kleine Räume, in denen ein feuerfester Herdbereich verwendet wird, um die erforderlichen Abstände zu verringern.

Details
● Ideal zum Heizen und Kochen in kompatiblen Zelten, Freizeitunterkünften und für den allgemeinen Gebrauch im Freien
● Vielseitige Kochmöglichkeiten zum Backen, Grillen, Dämpfen und Kochen mit dem integrierten Ofen und der Kochfläche
● Präzisionsgefertigt aus AISI304-Edelstahl und langlebig
● Der integrierte Backofen nimmt die Hitze des Kochers von 4 Seiten und der Oberseite auf und sorgt so für eine schnelle Erwärmung
● Keine Beeinträchtigung der Nutzung des Herdes, wenn der Backofen nicht in Gebrauch ist
● Tür mit Luftregulierungsklappe und Glasfenster für Feuerführung und Ambiente
● Glasfenster an der Backofentür, um den Zustand der Speisen jederzeit zu beobachten
● Thermometer an der Backofentür zur Kontrolle der Backtemperatur und Backzeit
● Ebenerdige seitliche Einlegeböden ermöglichen vielseitiges Kochen und dienen gleichzeitig als Tragegriff
● Äußerst tragbar - Beine und Einlegeböden lassen sich flach in den Herdkörper einklappen
● Das breite 4-Bein-Design sorgt für einen stabilen Stand des Ofens auf unebenen Oberflächen
●Kompatibel mit großem und 3,5-Zoll-Winnerwell-Kocherzubehör
● Brennstoff-Typ: Nur trockenes, abgelagertes Holz (nicht für die Verbrennung von Kohle geeignet)

Technische Daten
Maße des Ofenkörpers: 580(L)mm×250(W)mm×300(H)mm / 22.8(L)in×9.8(W)in×11.8(H)in
Maße aufgebaut: 620(L)mm×650(W)mm×2540(H)mm / 24.4(L)in×25.6(W)in×100(H)in
Maße des Ofens: 230(W)mm×180(H)mm×190(D)mm / 9.1(W)in×7.1(H)in×7.5(D)in
Rohrdurchmesser: 89mm / 3.5in
Gewicht: 19.6kg / 43.1lbs
Materialien: Hergestellt aus Edelstahl AISI304, mit einer Materialstärke von 1/8'' für die Kochfläche und 1/16'' für den Korpus, sind die Winnerwell-Kocher einzigartig in der Welt der tragbaren Holzöfen. Qualitativ hochwertiger Edelstahl bietet mehrere entscheidende Vorteile: Er kann in rauen Außenumgebungen eingesetzt werden; er kann höheren Temperaturen standhalten als Weichstahl, so dass dünneres Material für den Ofenkörper verwendet werden kann, was das Gewicht erheblich reduziert und den Ofen letztlich tragbarer macht; und schließlich nimmt der Edelstahl nach dem ersten Brand eine sehr schöne Patina an.
Lieferumfang
1 Ofen
6 gerade Rohrabschnitte mit einem Ø von 8,9cm und einer Länge von je 43cm
1 Luftstromregeler
1 Funkenfänger
1 Aschekratze
1 Rost
| | |
| --- | --- |
| SKU | 910211 |
| Barcode # | 798357974012 |
| Brand | Winnerwell |
| Shipping Weight | 22.8000kg |
| Shipping Width | 0.380m |
| Shipping Height | 0.435m |
| Shipping Length | 0.675m |
| Shipping Cubic | 0.111577500m3 |
Be The First To Review This Product!
Help other Winnerwell Outdoors users shop smarter by writing reviews for products you have purchased.
Others Also Bought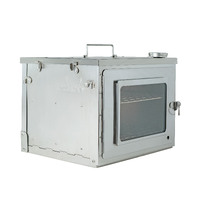 €105.03